The Year of the Rooster Chicken Trail
What do you know about chickens? You know nothing about chickens! And three years ago, neither did we. We didn't know where they were domesticated or why, how they spread around the world or with what consequences for human culture, diet, health or well-being. But following 3 years of AHRC-funded research, that allowed us to bring together 20 researchers from a variety of different universities, backgrounds and disciplines, we now have some answers. And we want to share these findings with you.
Throughout the Year of the Rooster we will be taking you on the Chicken Trail. We're going to show how the story of chickens is the story of people, charting the spread of global cultures, the rise and fall of ideologies and empires, as well human impact on the planet. We will present tales that intrigue, some that terrify but others that inspire hope – as it is becoming clear that chickens may be the key to helping some of the most vulnerable people in our modern-day communities and cultures.
To launch the Chicken Trail, we held a day of chicken-related activities at the Oxford University Museum of Natural History, under our newly installed giant chicken, the 'Dinnersaurus'.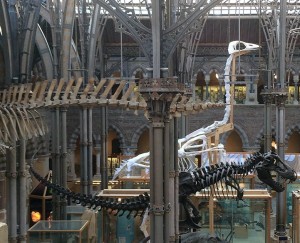 We also created a mini Chicken Trail around Oxford, which you can download here Oxford Chicken Trail but if you don't live in Oxford, no problem. Follow us on Twitter @Chicken_Project for weekly research reports that will explore everything from dinosaurs to…dinner!
Follow us
Keep up to date with the latest project news via our Twitter feed.

ChickenCoop
@Chicken_Project
— 3 years 7 months ago

— 4 years 5 months ago

— 4 years 6 months ago

— 4 years 6 months ago